Youth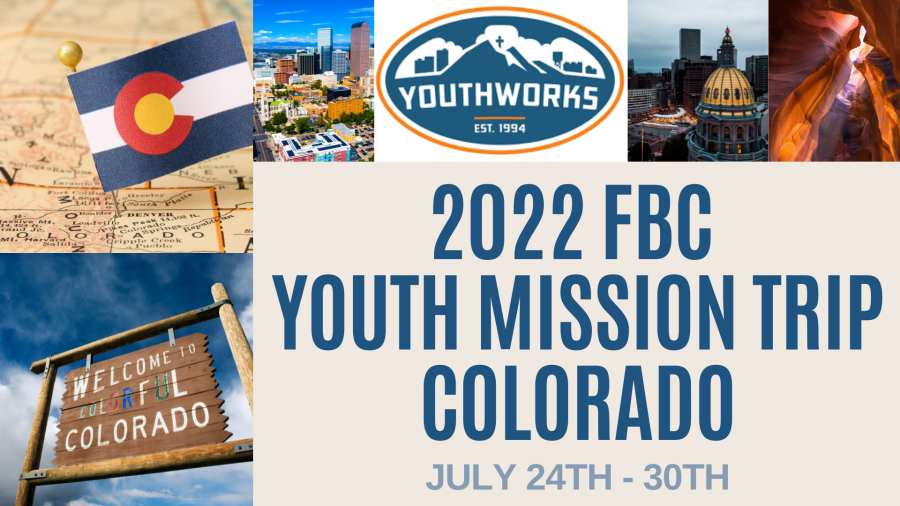 This summer the FBC youth will be heading to Colorado to serve the Denver community. We are partnering with Youthworks to organize and run all the local service projects. All summer long, with youth groups from across the country, Youthworks provides housing, food, programming, and community service hookups. They make it possible. From July 24- 30 we will be joining Youthworks to be the hands and feet of Jesus, hoping to encourage and love the people that are part of each organization; organizations such as Union Gospel Mission, The Salvation Army, local food banks and retirement homes. Please be in prayer as we seek to follow god's leading, prayers for health, safety, and the lives and relationships that will be impacted by this short-term mission. Pray that God will be glorified, and others will see Him clearly through this endeavor. If you would like to help us financially, any amount will do, please follow this link to the donation site. The cost for each individual is roughly $1100, and we thank you in advance for all your support!
If you are a high schooler, this includes incoming 2022 freshmen, and are interested in attending contact Pastor Dan by email at
Thank you,
Dan Potter
FBC Youth Pastor
Colorado Mission Donations
and deposit Form HERE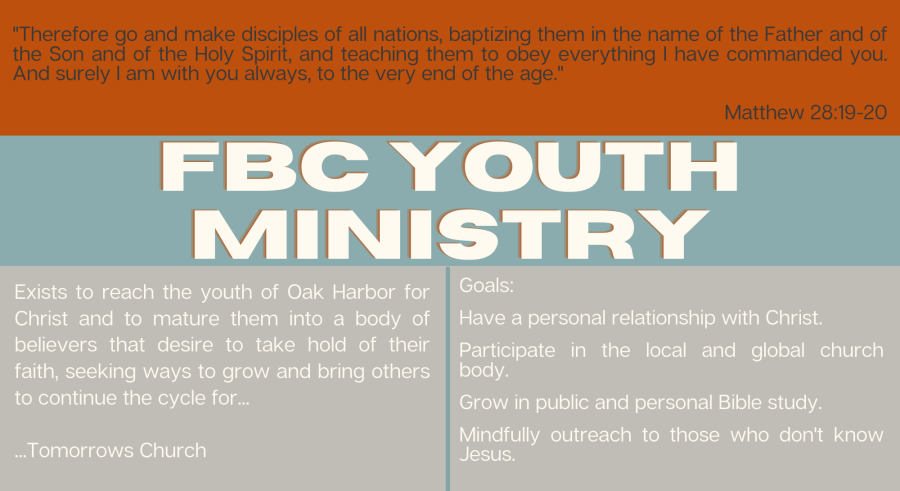 Click on image above for the Spring 2022 Calendar!



All costs are approximate and subject to change
Follow the below links to make payments online and to d
ownload, print, fill out the "Permit and Release Form"


Fall – Sr. High Retreat
An opportunity to stretch your faith and build relationships through specific activities, serving others, and time in the Word
Winter – Sr. High Retreat
Stormy weather is great to hang out on the beach and curl up with The Good Book!

Spring – Memorial Weekend All Youth Retreat
All youth from 7-12 grades are welcome to experience a weekend of fun and fellowship. Activities can include Skate Park, ropes course, paint ball, motor cross, field sports, basketball, and disc golf along with the food and worship services. Fill out this waiver and return it to Dan Potter if you plan to attend Island Lake Waiver

Summer – Sr. High- Mission trip
One week with YouthWorks mission trips. We will be working with local ministries to proclaim the gospel and serve the communities in need. Fundraising and pre-trip meetings will be required. Note that fundraising covers a majority of the total cost!
Global Partners (Youth) Application for Financia
l Aid
2022 Denver Mission
July 23rd - July 30th
Pre-Trip Meeting - January 16th, 2022 @ 12PM in C6
For 8th-12th students and parents